Genuine Parts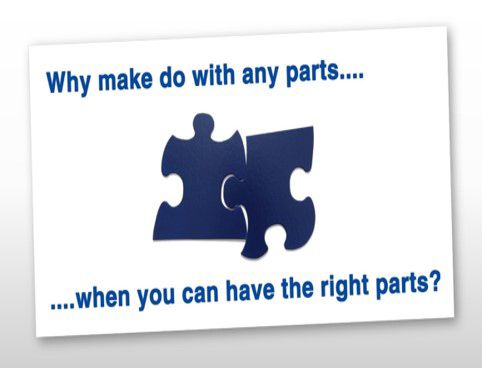 Keep Your FG Wilson Generator Working Well For Longer!
Genuine parts have been used to build your generator, these parts are selected by the manufacturer and rigorously tested to meet high quality, safety and performance standards. This ensures your generator will operate the way it was intended.
Non-genuine parts might look like the real thing but they have not been selected or approved by FG Wilson and have not been tested on the generator. Non-genuine parts do not have the same quality or safety attributes that come with a genuine part.
If parts are needed during maintenance, servicing or repairs ensure only genuine parts are fitted. They are the only ones that are approved and warranted by FG Wilson, by buying all your parts from the local FG Wilson dealer you can guarantee you get genuine parts.
Why Buy Genuine?
Lower Ownership Costs
The reason non-genuine parts have a market is that they can offer a lower upfront cost. However, by choosing to buy genuine parts you can reduce the total cost of ownership and save yourself money in the long term.
Each genuine part is carefully selected for your FG Wilson generator and has been designed to work with all the other fitted in the generator, meaning all the parts work more effectively together for longer.
This saves you money on fuel, you are less likely to need to replace service parts as often and your generator will itself last longer.
Cutting costs by buying cheaper parts will cost more in the long term!
Quality and Safety
Just like the original parts fitted to the generator all genuine aftermarket parts are selected to meet required specifications, to work perfectly with all other components and they have been rigorously tested to ensure they do. This means by buying and fitting only genuine parts the chances of failure is reduced.
This is not the case with non-genuine parts, they are not designed or selected specifically to fit and work in your FG Wilson generator. This may cause failures, some of which can pose a safety concern for operators.
FG Wilson also engage in ongoing research and development, this means we are continually improving our products to make them more effective. FG Wilson genuine parts will always be up to date and will provide you with the best performance.
FG Wilson make sure our parts are the best parts for the job, not only keeping quality high but safety standards high.
Reliability and Durability
Using genuine FG Wilson parts will guarantee you get the confidence and dependability you expect from investing in an FG Wilson generator. Genuine parts are selected by FG Wilson to have the same high standards, to last as long and to give the same performance as the original parts fitted to the generator.
Non-genuine parts can reduce your generator performance, durability and reliability, turning a small savings into a huge unnecessary cost. Using these parts may not only affect the performance but the whole life of your generator.
Initially they appear to work but use of non-genuine parts can lead to early wear, poor performance, poor reliability, high oil and fuel consumption and in some extreme cases, significant damage to your generator.
Genuine parts work better and last longer!
Easy Selection
It can be quite confusing and time consuming to try to identify the part you need if you don't use genuine FG Wilson parts. You have to compare the different 'will-fit' options, consider the specifications and will it be compatible with the generator you own.
FG Wilson have made it easy for you to identify and buy all the parts you need for your generator with our Customer Aftermarket Portal, where you can simply enter the generator serial number and choose the part you need, from here you can add it to a cart and send your parts enquiry to a local dealer you select from those available.
It couldn't be easier!
On the Customer Aftermarket Portal you can also look at basic Tutorial Videos, Help Articles and Troubleshooting Videos.